The Week in Urban Hacking….
From Bombing Science…

Eine Alphabet timelapse from Make Some Tea on Vimeo.
All City Blog (.fr):


Operation Rooftop: Reduce carbon. Rethink your transport
envoyé par Fight_Carbon. – Découvrez plus de vidéos créatives.
Making Future Magic: iPad light painting from Dentsu London on Vimeo.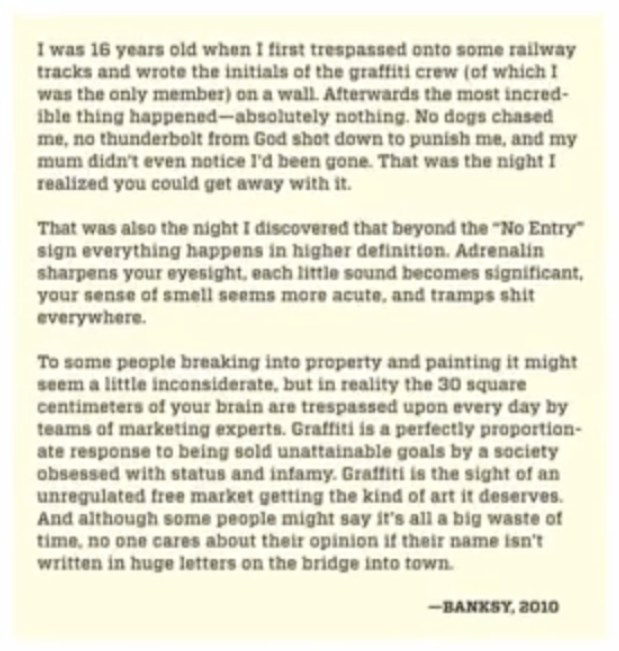 ~Banksy
(Quote from here)
– Go over: http://evan-roth.com/graffititaxonomy/ as introduction to photo taking.
– Go over photos: http://photos.urbanhacking2010.evan-roth.com/class/.
(I can start – http://photos.urbanhacking2010.evan-roth.com/class/evan/)
– Informal presentations / discussions / brain storming surrounding Sticker Project ideas.
Break
– Overview of documentation and Viral Media:
* Five Rules For How To Make Things Go Viral ~ Jonah Peretti
* Jonah Peretti Viral Meetup Slides
* 11 Rules For Getting Famous On The Internet By Me
* How To Go Viral ~BuzzFeed
* How To Get On BuzzFeeds Front Page ~BuzzFeed
* Suggest A Link ~BoingBoing
– In class working session on final projects in preparation of 4 week break.
– Style Wars documentary, in class screening.
F.A.T. Paris! – Come join tomorrow!
Homework:
– Come to class prepared to present your final Sticker Projects. Final projects will be turned in as a single blog post on the course website BEFORE the start of class. Your post must include:
* A clever and highly "click-able" title
* At least 2-3 sentences of well crafted, witty and descriptive text.
* An embedded photo, series of photos or video (depending on your project).
Email at least two popular blogs your project info (title, description & photos / video). Pick websites with related content that might find your project interesting (WoosterCollective should most likely be on your list). Read BoingBoing's Suggest A Link for the best practices of contacting blog editors.
Along with your final project come to class prepared to present a set of at least 12 related photos (20-30 ideal) of graffiti, street art, or urban hacking from your daily travels in Paris. These photos should be uploaded to a single folder inside of folder on the class photo page (e.g. http://photos.urbanhacking2010.evan-roth.com/class/your-name/your-photo-set)